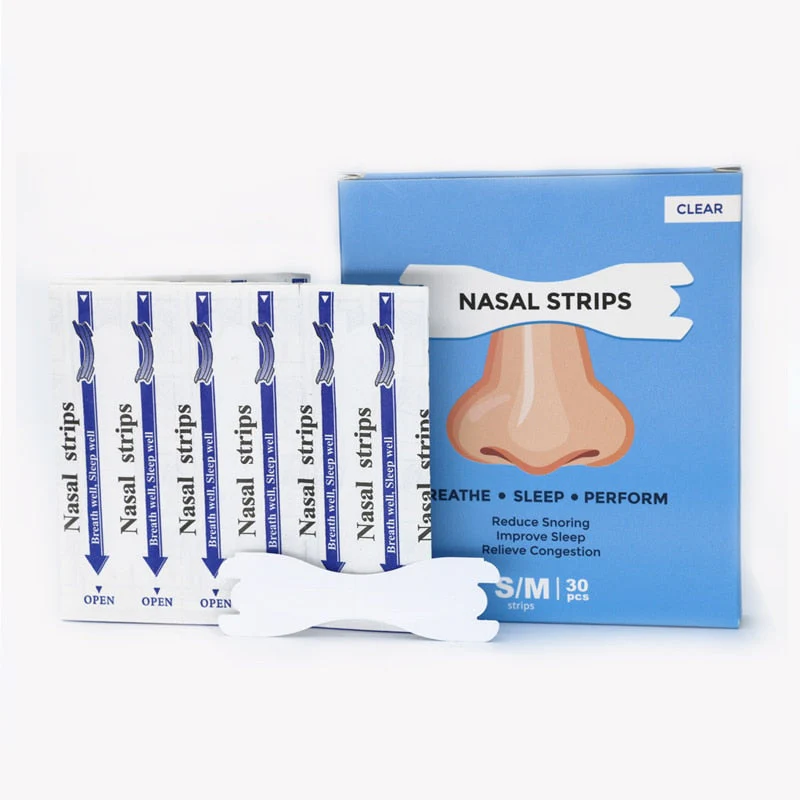 ${data.index + 1}/6
A NATURAL DRUG-FREE SNORING RELIEF
Anti-Snoring Nasal Strips ensure free air flow. The strips expand the nasal passages, to combat 'restricted breathing' and snoring caused by nasal congestion, leading to a more peaceful, undisturbed night sleep.
Our Anti-Snoring Nasal Strips are comfortable skin-friendly elastic bands that go on your cheeks, not on your nose, for drug-free snoring relief. Anti-Snoring Strips work by pulling open your nasal airway, allowing you to breathe instantly and naturally for drug-free snoring relief.
HOW DO THE ANTI-SNORING NASAL STRIPS WORK?
The nasal strip is made of natural, high quality and hypoallergenic material for people with sensitive noses.
The nasal strip will hold the nose open by the tension that occurs when bending and sticking of the strip on your nose.
The nasal strip widens the space by mechanically pulling open the flexible cartilage walls of the nasal valves, making it easier to breathe without the use of drugs and increasing air flow by up to 33%.
WHO ARE THEY FOR?
These nasal strips are perfect for everyone dealing with congestion from the following reasons:
🌱 Allergies
Allergies can cause your nasal congestion.
❄️ Colds
Seasonal colds may be making your nose stuffy.
😴 Snoring
These different forms of nasal congestion can lead to snoring.
🤧 Irritants
Difficulty breathing can be caused by pets, perfume, cigarette smoke, and more.

HOW DO I USE THEM?
Before Applying:
Wash and dry your nose well. Dirt, oils, moisturizers and makeup can weaken the adhesive.
Placement:
Remove the protective liner and place the strip centered along the width of your nose. The tabs on the strip should rest right at the start of the flaring part of each nostril.
Applying:
Press and hold down the strip until the strip is secure on your nose.
Removing:
Wash your face with warm water and start to loosen the strip from each end, gently lifting the strip off your nose.
Wow you reached the bottom
Most liked
Highest ratings
Lowest ratings
The review would not show in product details on storefront since it does not support to.