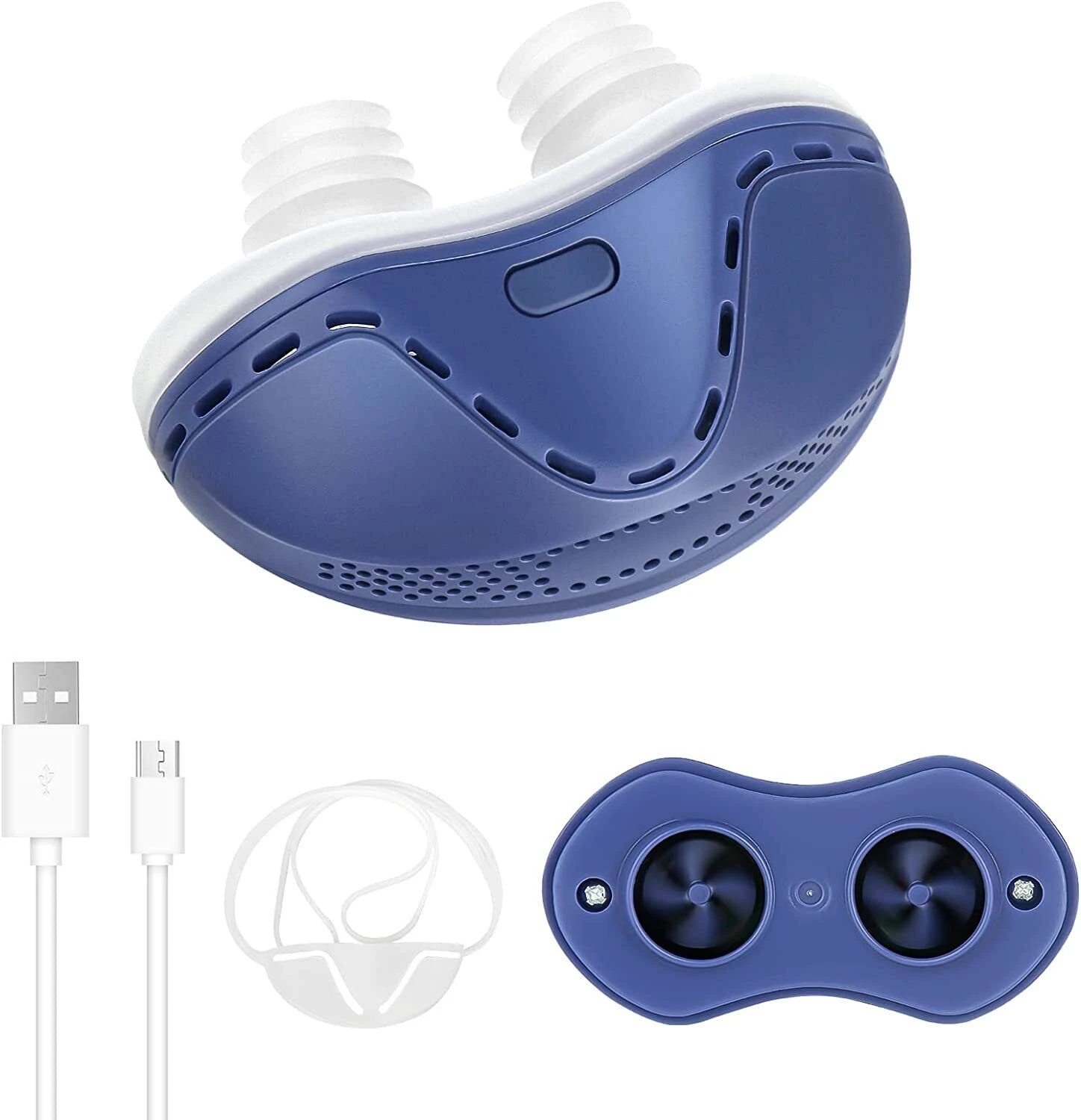 ${data.index + 1}/6
Get a restful night's sleep
Electric anti-snoring nasal plug can effectively help you stop snoring, breathe easily at night, bring you a new sleep experience, and say goodbye to the embarrassment of sleepiness during the day
Effective anti-snoring device
Causes of snoring
Snoring occurs when the muscles and tissues in your throat relax while you sleep, the airway narrows and the airflow is partially blocked, and when you breathe in, it causes vibrations that make a snoring sound
How electric snorers work
The Electric Variable Speed Snoring Anti-Snorer features a unique twin turbofan design, developed based on repeated medical trials. With 3 adjustable air speeds, the anti-snoring device is placed in the nasal cavity to help maximize airflow through the nasal passages. After the airway is dilated, the airflow passes through the pharynx and soft joints, reducing the vibration and eddy currents produced by the uvula, making breathing easier and reducing the sound of snoring
Twin turbo design

This anti-snoring device is designed with dual turbo fans. Long press the power button for 3 seconds to turn on the device, short press the power button to adjust the wind speed. There are 3 gear modes to meet your different needs. Make the air filter fresher and breathe easier

High quality soft silicone material

Removable silicone nose plugs are made of soft medical silicone, BPA free, safe and convenient, hygienic and durable, easy to clean, soft and elastic

8 hours of battery life

The nasal dilator is rechargeable, each snoring solution comes with a USB cable, and a 200Am upgraded battery, a full charge lasts 8 hours, allowing you to rest easily and quietly all night
Product package includes:
1 x Electric anti-snoring device
1 x Silicone strap
1 x Replacement silicone stopper
1 x USB charging cable
1 x User Manual
Recognized by professionals
The FDA-cleared, doctor-recommended electric anti-snoring device is a proven snoring solution that has helped many snorers over the years. Not only can effectively relieve snoring, but also promote air circulation in the nose and lungs, allowing you to breathe more smoothly and breathe fresh air during sleep
It takes time to get used to what's in your nose while you sleep. So give yourself a few days to fully adjust to it and see improvements in snoring and sleep quality
3-speed wind speed can be adjusted
Electric anti-snore device can be adjusted in 3 levels, long press the start button for 3 seconds to start, short press the start button to adjust the wind speed, perfect combination with ergonomic design!

The snorer is suitable for snorers. When choosing gifts for family and friends, consider whether he needs such an artifact to say goodbye to snoring? You can buy it for them and they will love it!
Wow you reached the bottom
Most liked
Highest ratings
Lowest ratings
The review would not show in product details on storefront since it does not support to.